Fully Integrated Lightning Experience
Agent for Salesforce

Voice

The voice control panel in Agent for Salesforce provides the major features agents use on a day-to-day basis. With the voice control panel, agents can perform any function a tethered phone can. Agent for Salesforce can handle phone calls (inbound or outbound) or work items

Customizable method of delivering contacts to an agent via Studio scripts..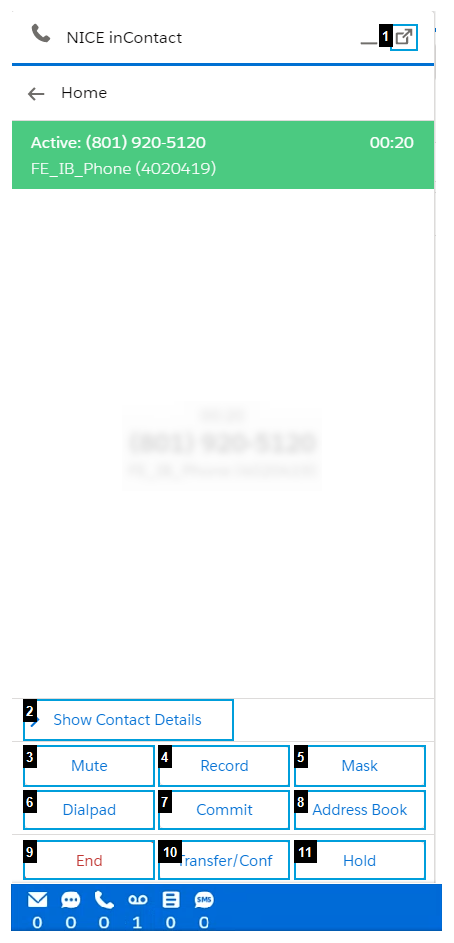 Menu Item
Description
Popout (1)
Allows you to pop out the phone contact into a bigger screen for handling.
Show Contact Details (2)
Provides access to edit contact details such as the call's disposition, tags, and notes.
Mute (3)
Mutes the call. While the call is muted, the contact cannot hear you. Click the icon again to unmute.
Record (4)
Begins recording the call. The

Agent for Salesforce

displays an animated equalizer to indicate you are recording the call.

You cannot manually stop a recording once it has started. It records until the contact is disconnected.

Mask (5)

If the call is being recorded, the mask icon allows you to generate white noise (only in the recording) during parts of the call that might contain sensitive information. In case your organization does server-side recordings, the mask feature is available even when you are not manually recording. You cannot use the mask feature during a conference call.

Dialpad (6)
Enables you to dial outbound calls.
Commit (7)

Places a follow-up call in your schedule. Commitments appear on your schedule and remind you of your commitment at the specified time. For more information about commitments, see Commitment Manager.

Address Book (8)

Provides access to commonly used names, phone numbers, and email addresses. Dynamic address books display the current statuses of contacts.

End (9)
Disconnects the contact. You cannot disconnect a call that is on hold.
Transfer/Conf. (10)

Available only when you are connected to two calls. It allows you to transfer the call currently on hold to the active call. Both calls are then disconnected from your Agent for Salesforce session.

It also allows you to conference the call currently on hold into the active call. Both contacts are then connected to you, and everyone can hear each other.

While on a conference call, you cannot mask the contacts, place a contact on hold, or use the Keypad Tones.

Hold (11)
Places the current call on hold. While on hold, the contact usually hears music or a recorded message from your company. Once on hold, this button changes to indicate you can resume the call. Available only when you have a paused call.