License by Half Hour Report
Required permissions: Data Download On
The License by Half Hour data download report displays the maximum number of ports

Where information transfers, over a network, between a computer and a server. each type of media, or channel

A way for contacts and agents to interact, such as voice, email, chat, social media, and so on., used each half hour during the specified time period.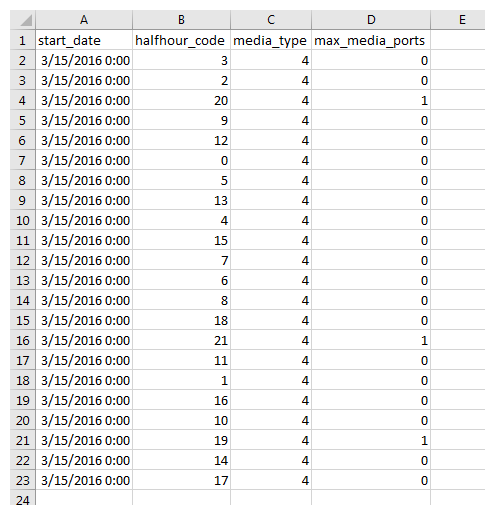 Select Report Option
See Data Download Reports Reference for details about all options available in the Select Report Option section when you run a data download report.
Columns
Start_Date

The date within the specified time period on which the events in the row began to occur. It has a format of MM/DD/YYYY.

Halfhour_Code

The code corresponding to the half hour of the day that the activity occurred. Each half hour is numbered 1-48 starting with 1 at 12:00 AM - 12:30 AM and ending with 48 at 11:30 PM - 12:00 AM.

Media_Type

The type of media used. The options include the following:

Email.
Fax.
Chat.
Phone call.
Voicemail.
SMS.
Social.
Digital.

max_media_ports
The highest number of ports

Where information transfers, over a network, between a computer and a server. used at once during the indicated half hour.