Proactive Voice
Proactive Voice is a channel of Personal Connection (PC) where PC automatically dials numbers from a calling list. When the call progresses, PC connects it directly to your agents prior to the contact's first words, enabling the agent to reply immediately for a seamless dialing experience without any awkward pauses. You can also configure an agentless PC ACD skill

Used to automate delivery of interactions based on agent skills, abilities, and knowledge that plays a prerecorded message for the contact instead of connecting the call to an agent.

View conversation detection graphic
PC dials a call, immediately routes it to an agent, and begins call progress analysis (CPA). It then connects the agent so the agent can hear the ringing of the most progressed call. Once the contact answers, the agent can immediately begin speaking. During the initial greeting, PC is still performing CPA and answering machine detection (AMD). Once it confirms a conversation is occurring, it releases the call to the agent and the call becomes active. If it doesn't detect a conversation, it attempts to detect whether the answer was an answering machine or fax machine. If it's an answering machine, PC can deliver a recorded message or allow the agent to leave a message, depending on your ACD skill configuration.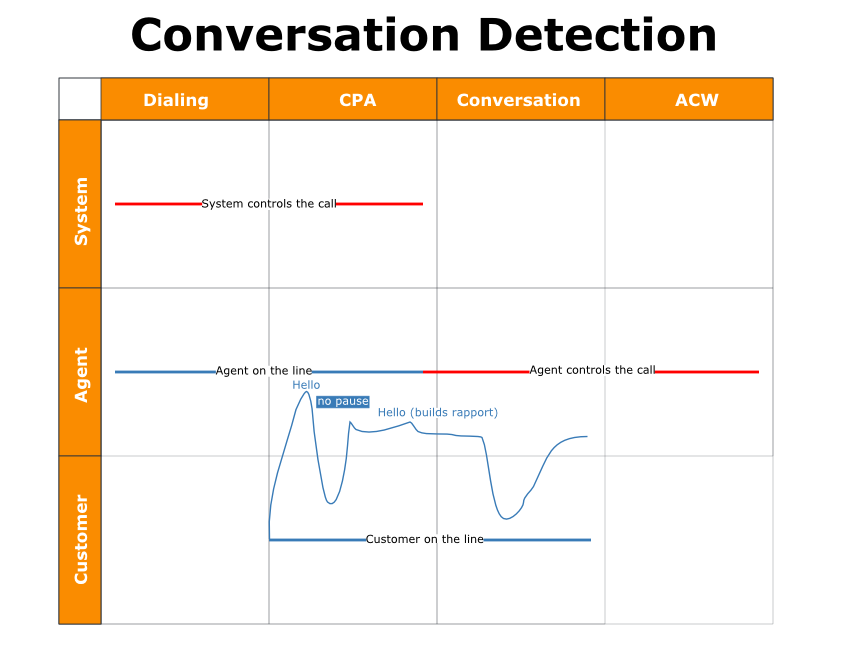 Key Facts About
Proactive Voice
Proactive Voice supports the following primary dialing modes: 

| Dialing Mode | Details |
| --- | --- |
| Predictive | Attempt multiple contacts at once per agent. |
| Progressive | Attempt one contact per agent. |
| Preview | Attempt one or more contacts per agent after the agent views details about the contact and accepts the pending call. You can add preview dialing to predictive and progressive dialing ACD skills. |
| Agentless | Attempt contacts with no agent involvement to play a prerecorded message when a contact answers the call. |

Setting up Proactive Voice in your environment requires that you generate a calling list. You can then apply filters to those calling lists to target records based on configurable criteria. You can build and maintain calling lists manually by uploading documents or automatically using Proactive XS scripts to import contacts from your CRM Third-party systems that manage such things as contacts, sales information, support details, and case histories.. You can connect to almost any data source using the RESTful interface support of Studio.

You must set up and maintain an up-to-date do not call (DNC) list so PC will cease to dial contacts who have requested that you add them to your DNC list.

You're required by law to comply with federal, state, and industry do not call (DNC) lists. You can't manually upload the entire national or state DNC lists to your environment due to the size of the files involved. Instead, you must scrub against these lists prior to uploading your calling lists or check at dial time through call suppression Temporarily skips a contact when using the outbound dialer. using a third party service such as Gryphon. Gryphon offers several advantages, including continual updates against the latest national DNC list; consideration of state and federal limitations on calling including appropriate hours of operation; and indemnification against infringement losses.

Call attempt time is based on the contact's time zone, which

CXone

attempts to determine based on information in the calling list. If no location-related data is present, contacts are either skipped or take on a default time zone of your choosing.
You can schedule callbacks

Holds a customer's place in queue and automatically calls the customer when they move to the front of the queue. in multiple ways: bulk uploading them through

CXone

, importing them from your CRM using a proactive XS script, or configuring callback-related dispositions

Result that the agent or system assigns to the contact when the interaction ends. and assigning them to the

Proactive Voice

ACD skill. You can upload up to 50 callbacks in a 15-minute period if no agents are logged in. For each agent who's logged in, you can upload 100 more requests per 15-minute period. If you max out your callback upload limit, your agents can still schedule callbacks using dispositions.
If your environment is configured for single contact handling, you can enable blending between inbound and outbound calls so agents can switch from outbound to inbound call when your call queue spikes. Blending isn't available for

Omnichannel Session Handling

environments.

DNC, call suppression, and calling list filtering are similar tools that should be used for different situations:

Use DNC to permanently stop outbound ACD skills from attempting to contact someone who has made a DNC request.
Use call suppression to suppress calls to calling list entries based on unique criteria, but not specifically a phone number. You can set a unique disposition for a call suppression record to indicate the purpose of the temporary call suppression. Call suppression records include a start and end date for suppressing calls and is intended to restrict dialing for the duration of a campaign, or even longer. For example, if Big Bad Wolf, Inc. lost licensing for the state of New York, it could suppress calls to New York until it re-establishes its licensing. Big Bad Wolf, Inc. could disposition outbound calls missed due to the call suppression record with a new "NYLicenseLapse" disposition.
Use calling list filtering to restrict contacting calling list entries within the scope of a campaign. For example, if Big Bad Wolf, Inc. wanted to hit a monthly quota early in a campaign, it could temporarily filter out low-probability prospects to focus on high-probability prospects. Big Bad Wolf, Inc. still intends to contact the low-probability prospects later. Calling list filtering is also useful for restricting dialing for severe weather impacts, such as tornadoes or hurricanes.